Lila Kedrova as Madame Hortense in Zorba the Greek
Best Performance by an Actress in a Supporting Role 1965

Lila Kedrova Zorba the Greek 1965
Plays Character That Is Related To The Sex Trade Industry
Wins Both An Oscar And Tony Award For Playing A Prostitute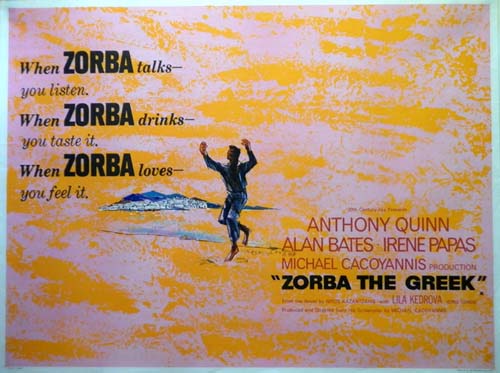 Lila Kedrova in Zorba the Greek 1965
The Oscar might not have gone to Lila Kedrova at all as she was a last minute replacement. Simone Signoret was first signed for the part of Madame Hortense. After filming for a day, she didn't feel right in the role. So Simone withdrew from the part. An emergency recast was conducted. Down to the wire with filming, producers signed Lila Kedrova for the role. As an aging prostitute and proprietor of the local hotel, the character finds her caught between friends Basil and Zorba. 16 years after her Oscar win; she reprised her role for the Broadway adaptation of the film entitled Zorba. Lila would be the only person in history to win the Oscar first, then the Tony Award second for the same part. Other performers have won the Tony first, then the Oscar for the same role. But never the other way around!
Watch clip of the film "Zorba the Greek"
To read more about this prostitute role & other Oscar actresses playing a hooker pick up
If you know of this actress playing more than one prostitute role please comment below and let me know! I'll gladly add it to the page here. If the video has been removed please leave a comment below to let me know.