Marion Cotillard as Édith Piaf in La Vie en Rose
Best Performance by an Actress in a Leading Role 2008

Marion Cotillard La Vie en Rose 2008
Played Three Characters That Are Related To The Sex Trade Industry
Chloé in Chloé (1996)
Ewa Cybulska in The Immigrant 2013
Monica D'Amato in Blood Ties 2013
All Three Characters Are Prostitutes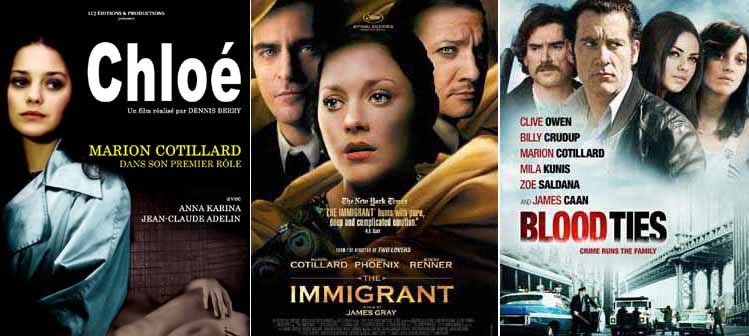 Marion Cotillard in Chloe 1996 The Immigrant 2013 and Blood Ties 2013
Marion Cotillard is a triple threat when it comes to playing prostitutes. That is because she has played a hooker not once, not twice, but three times! In her first lead role she plays a teenage runaway who gets seduced into the world of prostitution in the French TV Movie Chloé.

Watch this fan made music video featuring clips from the film "Chloé"
Fresh off her Oscar win in 2008 Marion Cotillard would play the part of Ewa Cybulska in The Immigrant. Set in New York during the 1920s, she plays a Polish immigrant fresh off the boat. Her character is so desperate to make money; she falls into the world of prostitution.

Watch clip of the film "The Immigrant"
After that film Marion Cotillard played Monica D'Amato in Blood Ties. The character is a drug-addicted prostitute who is the ex-wife of Clive Owen's character. Marion Cotillard had said 2013, when she played two hookers, was her year of prostitution.
Watch clip of the film "Blood Ties"
To read more about this prostitute role & other Oscar actresses playing a hooker pick up
If you know of this actress playing more than one prostitute role please comment below and let me know! I'll gladly add it to the page here. If the video has been removed please leave a comment below to let me know.