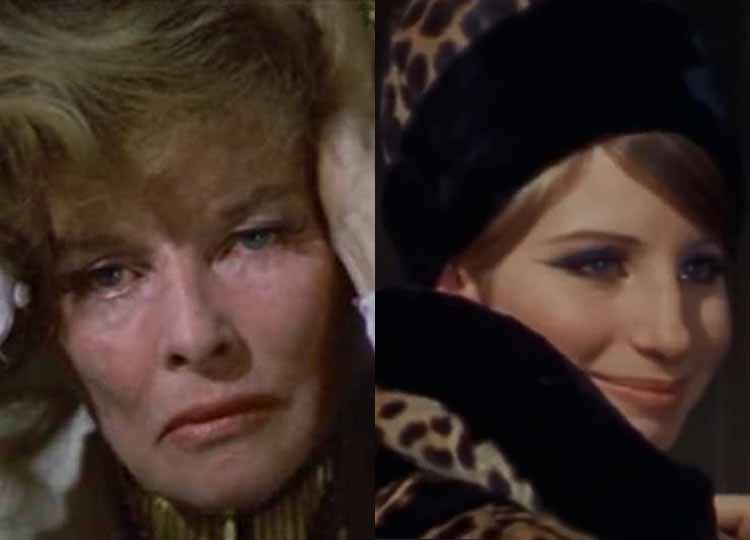 Katharine Hepburn and Barbra Streisand 1969 Best Actress Co-Winners
Streisand and Hepburn received 1,515 votes each (out of a pool of 3,030 votes). It was the first exact tie in a principal Oscar category. What also helped was that Streisand voted for herself. Some noses were bent out of shape when Streisand was invited to join the Academy even before "Funny Girl" was released (her film debut.) Academy President Gregory Peck defended the move saying, "When an actress has played a great role on the stage and is coming into films for what will obviously be an important career, it is ridiculous to make her wait two or three years for membership." In her acceptance speech, Streisand should have thanked Academy President Peck for allowing her to vote for herself, thus tying with Hepburn.
For Katharine Hepburn hookers entry go here
With her third Oscar, Hepburn broke records in a few ways.
1 – It was the first tie in the Best Actress category
2 – Only the second tie (for acting) in Academy history
3 – It was the first time (since Luise Rainer) an actress won two acting Oscars in a row
4 – This nomination marked Hepburn's eleventh, making her the most nominated thespian
(though Meryl Streep would break Hepburn's record)
When asked about being the most nominated performer, she said
"I suppose if I lived as long as I have anything is possible"
For Barbra Streisand hookers entry go here
Barbra Streisand won her Oscar two days shy of her 27th birthday and is one of the few performers to win the Academy Award for their film debut.