Dorothy Malone as Marylee Hadley in Written on the Wind
Best Performance by an Actress in a Supporting Role 1957
Dorothy Malone Written on the Wind 1957
Plays Three Character That Is Related To The Sex Trade Industry
Lilly Dollar in Warlock 1959
Madame Hilary LaSalle in Police Woman 1976
Maggie in Little Ladies Of The Night 1977
First character is a prostitute, second character is a madam, third character is an ex-hooker.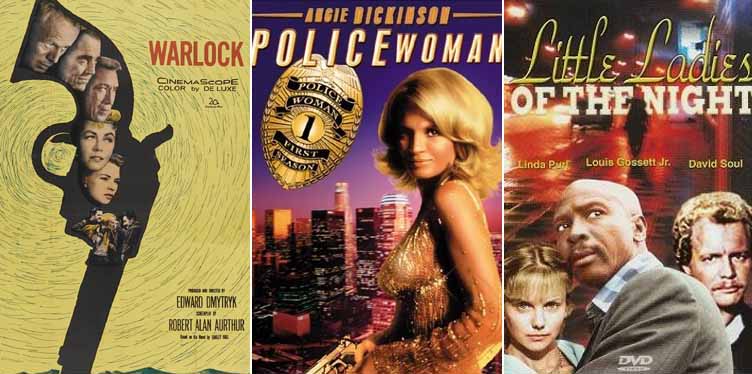 Dorothy Malone in Warlock 1959, Police Woman 1976 and Little Ladies Of The Night 1977
If there ever were a name that fit a characters profession it would be Lilly Dollar from the movie Warlock. Dorothy Malone plays this part, two years after winning her Oscar for the film Written on the Wind. Though not said in so many words, it is implied Lilly was a prostitute. She could still be turning tricks, as that possibility is left open. Nevertheless Lilly arrives in the town of Warlock with one goal in mind. Revenge.

Watch clip of the film "Warlock"
Years after appearing on the TV series Peyton Place, Dorothy began popping up on TV. Doing various TV movies and guest roles. One of which was Police Woman, where Dorothy played a successful Madam by the name of Hilary LaSalle. In her possession is he Trick Book, where she keeps a detailed list of all her clients. Naturally many of her clients want to shut her up, her character gets murdered. This is a real whodunit. No clips of Dorothy's appearance on Police Woman is available on-line.
In Little Ladies of the Night, Dorothy has a cameo where she doesn't have much to do. But it is quite an acting role nonetheless. She plays Maggie who runs a coffee shop on Hollywood Boulevard. She is also an ex-hooker, where it is suggested that she aged out of the business. It is quite an appearance. Apologizes for the darkness of the video. I tried boosting the brightness as much as possible.
Watch clip of the film "Little Ladies of the Night"
To read more about this prostitute role & other Oscar actresses playing a hooker pick up
If you know of this actress playing more than one prostitute role please comment below and let me know! I'll gladly add it to the page here. If the video has been removed please leave a comment below to let me know.