Lupita Nyong'o as Patsey in 12 Years a Slave
Best Performance by an Actress in a Supporting Role 2014

Lupita Nyong'o 12 Years a Slave 2014
Wins Oscar For Playing Character Sold Into Slavery
Plays Character That Is Related To The Sex Trade Industry
Girl in Eclipsed 2015
Tony Nominated For Playing A Character Held Captive As A Sex Slave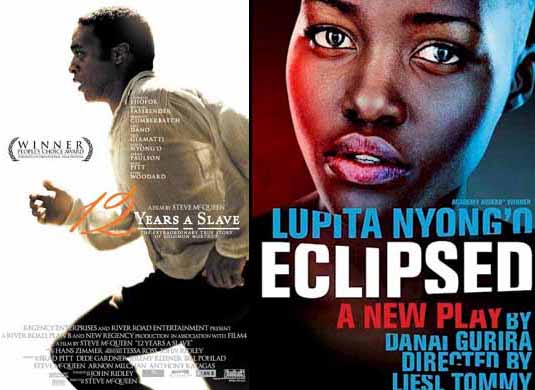 Lupita Nyong'o in 12 Years A Slave 2013 and The Eclipsed 2015
Lupita won the Academy Award for playing the real-life slave Patsey in "12 Years A Slave." As a female slave, the character must endure being raped repeatedly by her master. An older black woman explains it this way to a younger slave. Having to submit oneself to this type of sexual abuse is far better than being whipped.

Watch Scene From "12 Years A Slave"
For her New York stage debut, Lupita chose to perform in the play "Eclipsed." Danai Gurira is the playwright (who plays Michonne on "The Walking Dead.") The setting was the Liberian civil war in 2003. Four women are held captive as sex slaves by a rebel commander. Lupita plays the newest and youngest sex slave brought into the fold. The character doesn't even have a name and referred to as "the girl." But her arrival shakes up the relationships among the other four women. Throughout this play, all five characters have to deal with the situation of war and how it affects all of them moving forward. No clips of Lupita's performance are available online.
Some have disputed sexual slavery is sex work because
Playing a sexually abused kidnap victim doesn't equate to playing someone who works in the sex industry.
However human trafficking is defined as
The trade of humans, most commonly for the purpose of forced labor, sexual slavery, or commercial sexual exploitation for the trafficker or others.
No one would question those women forced into sexual slavery as a sex worker.
Lupita Nyong'o and the cast of "The Eclipsed".
To read more about this prostitute role & other Oscar actresses playing a hooker pick up
If you know of this actress playing more than one prostitute role, please comment below and let me know! I'll gladly add it to the page here. If the video gets removed, please leave a comment below to let me know.