Nicole Kidman as Virginia Woolf in The Hours
Best Performance by an Actress in a Leading Role 2003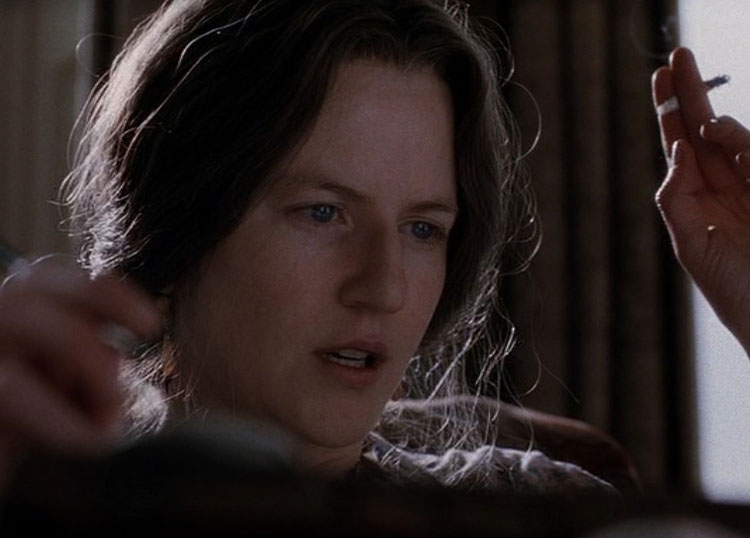 Nicole Kidman The Hours 2003
Plays Three Characters Related To The Sex Trade Industry
Drew Preston in Billy Bathgate 1991
Satine in Moulin Rouge! 2001
Oscar Nominated For Playing A Prostitute
Sophia/Nadia in Birthday Girl 2001
First Character Is A Gun Moll. The Second Character Is A Prostitute.
The Third Character Is a Russian Mail-Order Bride.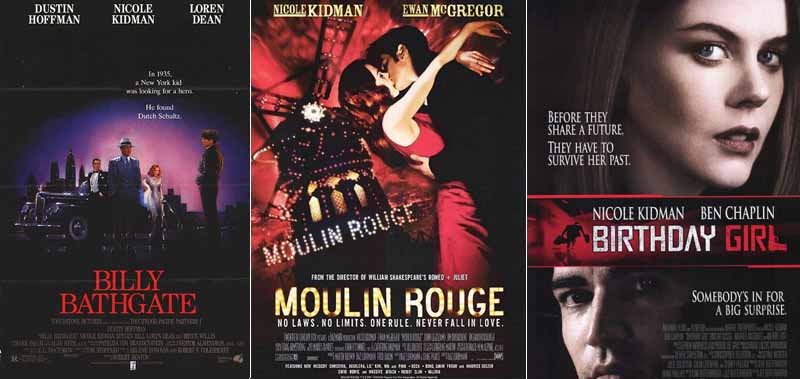 Nicole Kidman in Billy Bathgate 1991 Moulin Rouge! 2001 and Birthday Girl 2001
You have to hand it to Nicole Kidman. Though she has played three sex workers, all three characters are vastly different in terms of the sex work they offer.
In "Billy Bathgate," Nicole plays socialite Drew Preston. She was the gun moll of gangster Bo Weinberg. When he gets knocked off, Drew turns to another gangster Dwight Schultz to be his moll. She has a memorable line in the film. When asked if she is Mr. Schultz's girl Drew replies, "I'm not his girl, he's my gangster."

Watch clip of the film "Billy Bathgate"
"Moulin Rouge!" was loosely based on the stage play The Lady of the Camellias. Oscar winners Vanessa Redgrave and Vivien Leigh both played the female protagonist in those productions. In this film, Nicole Kidman plays a dancer, who is also a hooker, at the Moulin Rouge nightclub. Just like the main character in The Lady of the Camellias, Satine dies at the end of the film of tuberculosis. However, she dies in the arms of the man she loves.

Watch clip of the film "Moulin Rouge!"
"Birthday Girl" finds a lonely bank employee who has been unlucky in love. Wanting the perfect woman, he decides to purchase a mail-order bride from Russia. Who shows up but a mysterious woman named Nadia, played by Nicole, She is everything he is looking for in a wife and lover. However, when Nadia's two Russian cousins suddenly show up, things take a dramatic turn.
Watch trailer of the film "Birthday Girl"
To read more about this prostitute role & other Oscar actresses playing a hooker pick up
If you know of this actress playing more than one prostitute role, please comment below and let me know! I'll gladly add it to the page here. If the video gets removed, please leave a comment below to let me know.