Shelley Winters as Petronella Van Daan in The Diary of Anne Frank
Best Performance by an Actress in a Supporting Role 1960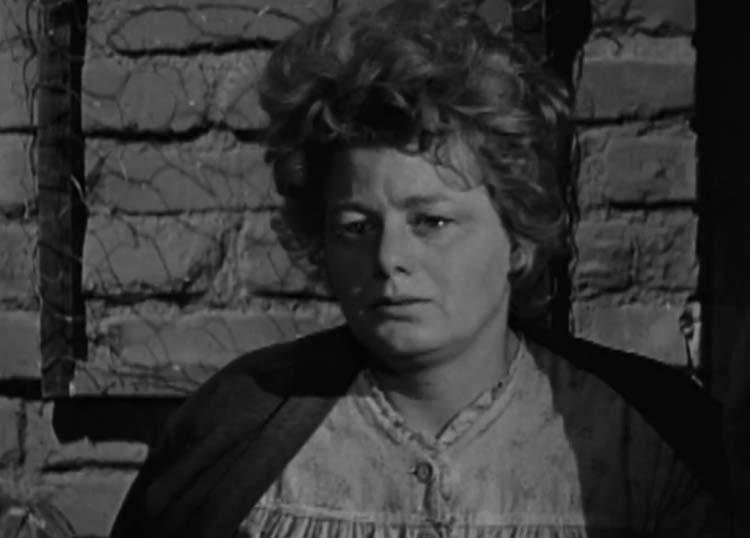 Shelley Winters The Diary of Anne Frank 1960
SEX WORKER ROLE
Madame Irma in The Balcony 1963
Polly Adler in House Is Not A Home 1964
Both Characters Are Madams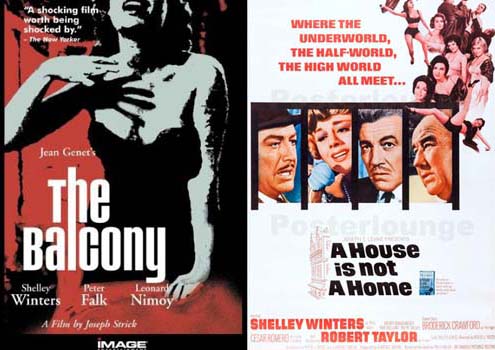 Shelley Winters in The Balcony 1963 and House Is Not A Home 1964
It's entirely fitting that Simone Signoret and Shelley collectively won their first Academy Award in the same year. They are among the female Oscar winners you have played the most prostitutes. Simone Signoret and Sophia Loren are in a tie for playing the most hooker roles, that being six. Shelley ties with Anne Baxter for second place. Both of those ladies have played a prostitute five times.
One of her prostitute roles includes "The Balcony," where Shelley plays Madame Irma. Her character runs a bordello that offers men a chance to act out their S&M fantasies.

Watch clip of the film "The Balcony" with fellow Oscar Winner Lee Grant
The following year Shelley played yet another brothel madam. "In House Is Not A Home," Shelley plays the real-life Polly Adler, who ran the most successful brothel in New York City's history.
Watch trailer of the film "House Is Not A Home"
Shelley Winters also won a second Oscar for playing a hooker on film.
Go to Shelley Winters A Patch of Blue 1966 to read about her Oscar winning prostitute role.
To read more about this prostitute role & other Oscar-winning actresses playing a hooker, please continue perusing
If you know of this actress playing more than one prostitute role, please comment below and let me know! I'll gladly add it to the page here. Also, leave a comment below if the video above has been removed.