Shelley Winters as Rose-ann D'Arcy in A Patch of Blue
Best Performance by an Actress in a Supporting Role 1966

Shelley Winters A Patch of Blue 1966
Wins Oscar For Playing A Prostitute
SEX WORKER ROLE
Connie in Cages 1963 & 1985
Both Characters Are Prostitutes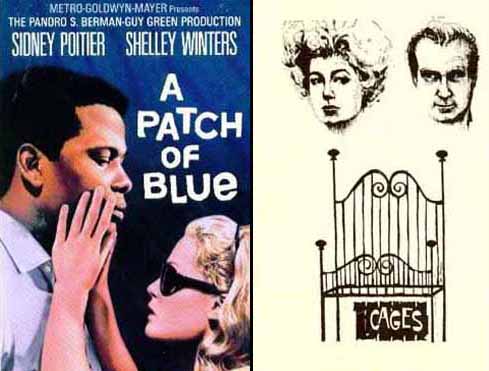 Shelley Winters in A Patch of Blue 1966 and Cages 1963 & 1985
As mentioned in Winters's first win for "The Diary of Anne Frank," Shelley has played a hooker five times. Including winning an Oscar for playing a prostitute in "A Patch of Blue." As the ultimate mother from hell, this character abuses her blind daughter by day and turns tricks by night. When Shelley's character finds out she is seeing a black man, things get worse for the daughter, which ruins her plans to pimp out her blind daughter to potential johns.

Watch the trailer of the film "A Patch of Blue"
For the part of the prostitute in the play "Cages," Shelley played this part not once but twice. With over 20 years in between! She first played the role off-Broadway in 1963. Twenty-two years later, she reprised the character on the Chicago stage in 1985. In the "Snow Angels" segment, John hires a hooker, not for sex, but to play a role. He wants the hooker to dress up and act like a girl he once met in a museum. Then act out certain scenes that only exist in his mind.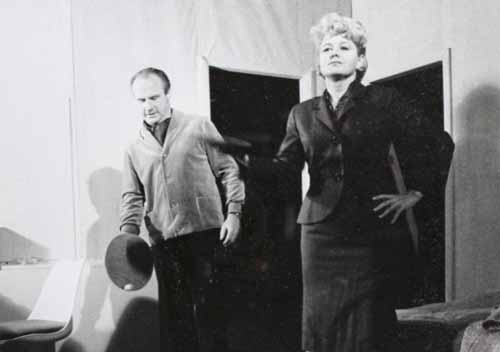 Shelley Winters and Jack Warden in Cages 1963.
Go to Shelley Winters The Diary of Anne Frank 1960 to read her other prostitute role.
To read more about this prostitute role & other Oscar-winning actresses playing a hooker, please continue perusing
If you know of this actress playing more than one prostitute role, please tweet to me and let me know! I'll gladly add it to the page here. My Twitter handle is at the top of this page.