Goldie Hawn as Toni Simmons in Cactus Flower
Best Performance by an Actress in a Supporting Role 1970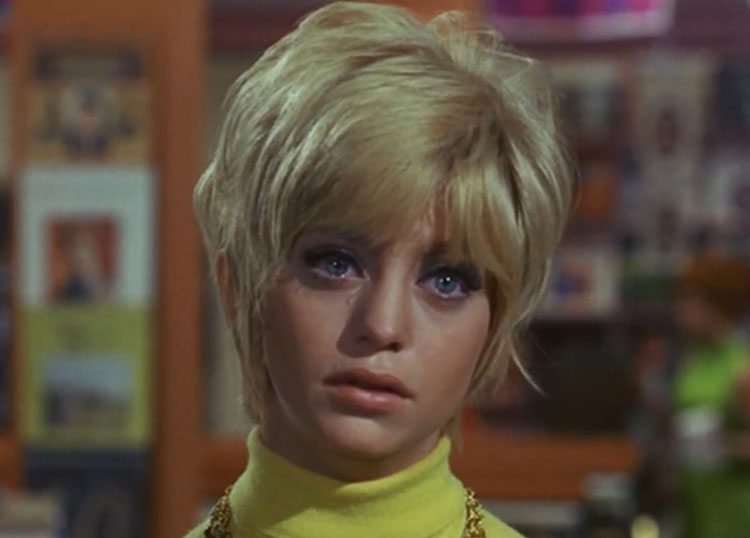 Goldie Hawn Cactus Flower 1970
SEX WORKER ROLE
Dawn Devine in The Heist 1971
Amanda Quaid / Duchess Swansbury in The Duchess and the Dirtwater Fox 1976
Both Characters Are Prostitutes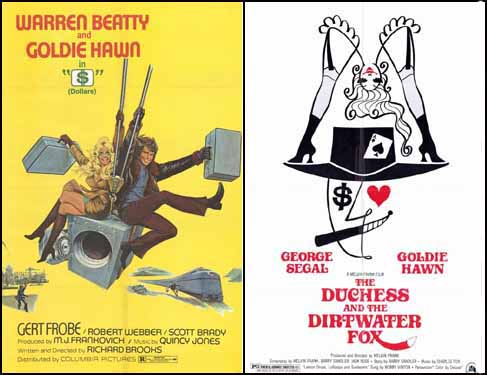 Goldie Hawn in The Heist 1971 and The Duchess and the Dirtwater Fox 1976
The title used for this film consists of only one symbol, a dollar sign "$." To avoid confusion surrounding the single dollar sign, I've used the other title this film is known for; "The Heist." This movie stars Warren Beatty as a security expert who decides to rob a bank. He tries to pull off this robbery by using his status as a trusted insider within the company. Goldie Hawn plays Dawn Devine, a bubbly, upbeat hooker. She is also his accomplice in their efforts to loot the joint. However, they encounter several comical roadblocks, including a 20-minute chase scene at the film's end.

Watch a clip from the film "$ Dollars" aka "The Heist"
Five years later, Goldie would again play a prostitute in the western "The Duchess and the Dirtwater Fox." Hawn plays Amanda Quaid, a saloon performer, and hooker tired of turning tricks. She wants to escape her former life, so she poses as a Duchess to snag a rich Mormon husband. However, her plan goes off the rails when she gets involved with a card shark who has swindled $40,000.00.

Watch a clip from the film "The Duchess and the Dirtwater Fox "
To read more about this prostitute role & other Oscar-winning actresses playing a hooker, please continue perusing
If you know of this actress playing more than one prostitute role, please tweet to me and let me know! I'll gladly add it to the page here. My Twitter handle is at the top of this page.