Kim Basinger as Lynn Bracken in L.A. Confidential
Best Performance by an Actress in a Supporting Role 1998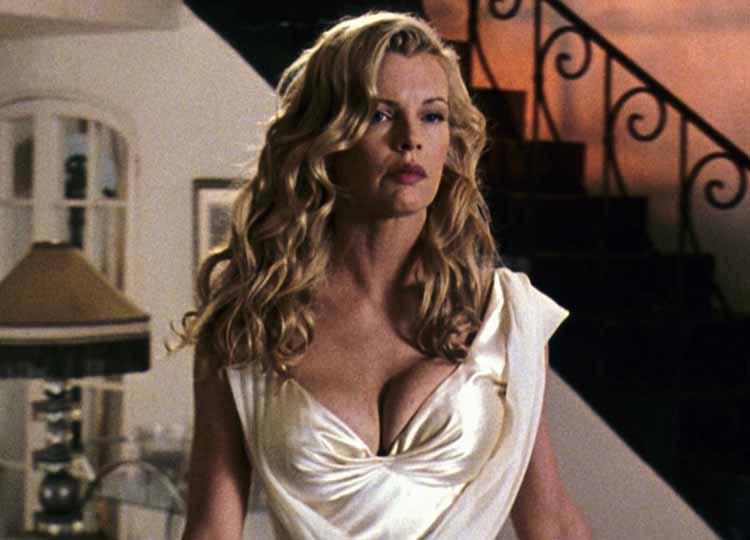 Kim Basinger L.A. Confidential 1998
Wins Oscar For Playing A Prostitute
SEX WORKER ROLE
Lorene Rogers in From Here to Eternity 1979
Michel Duval in No Mercy 1986
First Two Characters Are Prostitutes. The Last Character Is A Gun Moll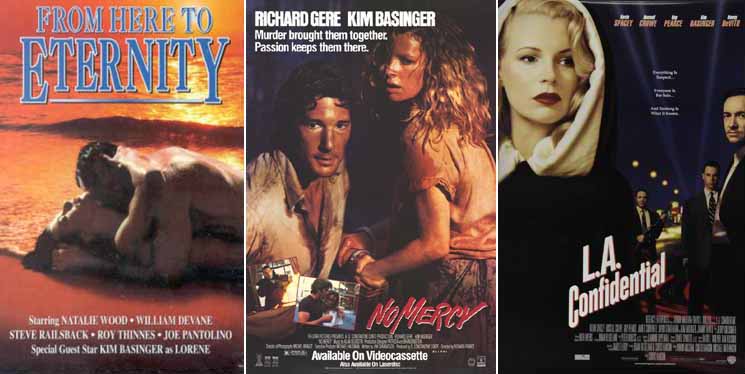 Kim Basinger in From Here to Eternity 1979, No Mercy 1986 and L.A. Confidential 1998
In 1979 Kim Basinger starred in the television remake of "From Here to Eternity." She plays Lorene Burke; the role made famous by Donna Reed in 1954. As a prostitute, working at the Gentlemen's Club, Lorene yearns to escape her dreary existence. More than anything, she wants a husband and a family, complete with the white picket fence. She is so close to her dream, as she falls in love with one of the soldiers. But tragically, he is killed in the line of duty. Devastated, Lorene decides to leave the profession and begin a new life.

Watch clip from "From Here to Eternity"
In 1986's "No Mercy," Kim Basinger plays the role of Michel Duval. As a 13-year-old, she gets sold to a gangster. Now, as an adult, she finds herself trapped as the gun moll to a new sadistic criminal. Michel is desperate to escape his clutches and winds up falling in love with the cop who tries to rescue her.

Watch clip from "No Mercy"
In the 1990s, Kim Basinger's career seemed to be in a slump. Nothing substantial was coming her way. Then came the role of Lynn Bracken in "L.A. Confidential." That changed everything. Kim plays a Veronica Lake look-a-like, who turns tricks for a living. The character of Lynn had initially come to Hollywood seeking stardom. But she ends up turning to prostitution to make a living. In the film, Lynn gets tangled up with the lead detective investigating a murder.

Watch clip of the film "L.A. Confidential"
To read more about this prostitute role & other Oscar-winning actresses playing a hooker, please continue perusing
If you know of this actress playing more than one prostitute role, please comment below and let me know! I'll gladly add it to the page here. Also, leave a comment below if the video above has been removed.