Mo'Nique as Mary Lee Johnston in Precious
Best Performance by an Actress in a Supporting Role 2010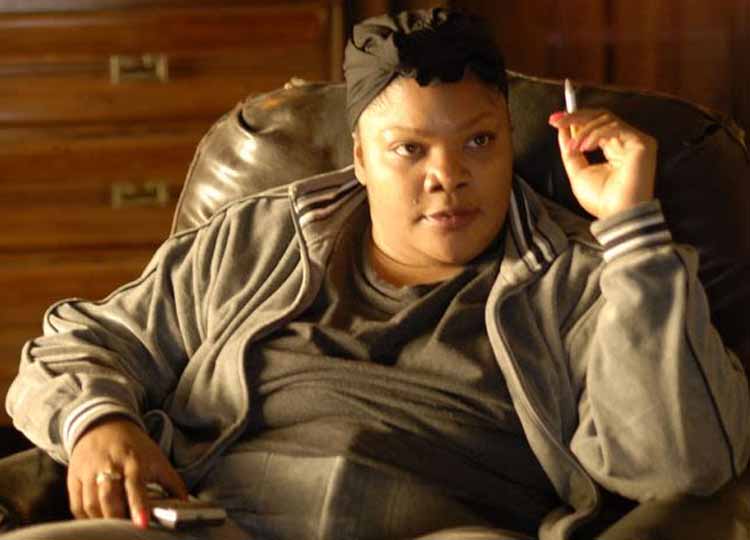 Mo'Nique Precious 2010
SEX WORKER ROLE
Lesbian Dominatrix Prostitute in The Vagina Monologues 2000
Character Is A Prostitute

Mo'Nique in The Vagina Monologues 2000
"The Vagina Monologues" is a compilation of women's experiences discussing their vagina. The brainchild of Eve Ensler, it has been both a book and a one-woman show. Later on, the format was revamped to feature three women reading the various monologues on a stage. Similar to the play "Love Letters," the cast of three was rotated continuously. Mo'Nique appeared at the Millennium Theatre Center in Detroit for the first all Black performance of "The Vagina Monologues". Co-starring Ella Joyce, Wendy Raquel Robinson and Vanessa Bell Calloway. One of the monologues was "The Woman Who Loved To Make Vaginas Happy" about an attorney who decides to make a career change – by becoming a lesbian dominatrix prostitute.
No clips of Mo'Nique doing this particular monologue. However, you can watch another actress recite the experiences of the Lesbian Dominatrix Prostitute at the video below.
Lesbian Dominatrix Prostitute in The Vagina Monologues
To read more about this prostitute role & other Oscar actresses playing a hooker pick up
If you know of this actress playing more than one prostitute role, please comment below and let me know! I'll gladly add it to the page here. If the video gets removed, please leave a comment below to let me know.