Audrey Hepburn as Princess Ann in Roman Holiday
Best Performance by an Actress in a Leading Role 1954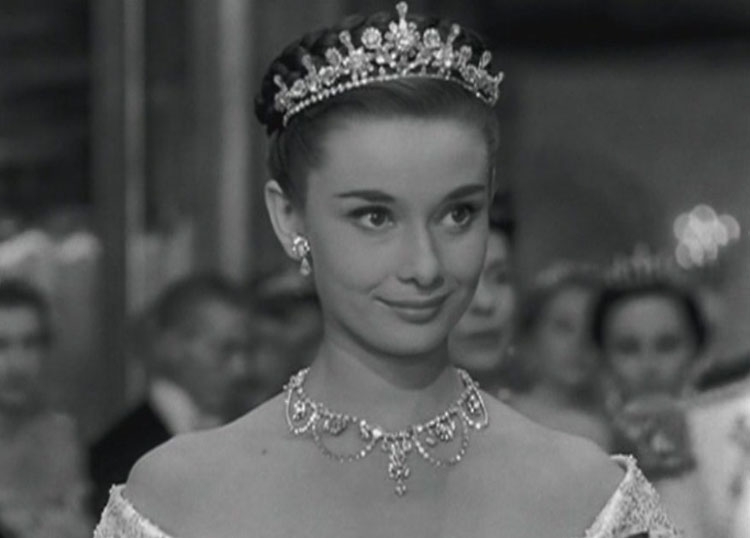 Audrey Hepburn Roman Holiday 1954
SEX WORKER ROLE
Gigi in Gigi 1951
Holly Golightly in Breakfast at Tiffany's 1961
Oscar Nominated For Playing A Prostitute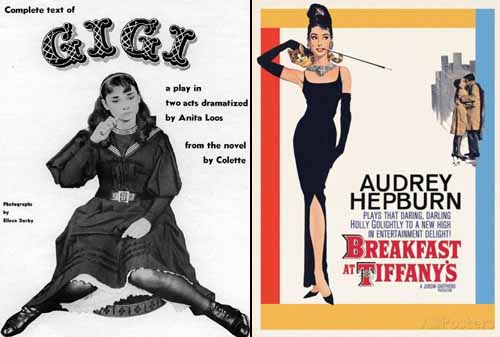 Audrey Hepburn in Gigi 1951 and Breakfast at Tiffany's 1961
Audrey Hepburn made her Broadway debut in "Gigi," playing the title role. The plot revolves around a young woman groomed for a career as a courtesan. As mentioned in the Greer Garson section, the term courtesan is someone willing to be the companion of a wealthy individual. As such, this person is dependent on them for financial support. Sometimes, a courtesan could be passed off from one benefactor to another. Gigi meets and falls in love with an older, wealthy man. At first, he doesn't feel the same way. But as time passes, he falls in love with the delightful Gigi. In the end, they live happily ever after.
"Gigi," the Broadway play, and "Gigi," the musical (with Leslie Caron in the title role), are two separate productions.
Ten years later, Audrey Hepburn would star as one of the most famous prostitutes in film history – Holly Golightly in "Breakfast at Tiffany's." However, Truman Capote, who created the character of Holly, disputes that she was a hooker. He describes her as an American Geisha. No matter how one describes her, Holly seems to live a charmed life – going from clubs to parties to restaurants, wearing fabulous designer clothes, and socializing with wealthy men who care for her every need. Holly's whirlwind life suffers a jolt when she meets a new male neighbor. Suddenly the experience as she knew it started to change. But will it be for the better?

Watch clip of the film "Breakfast at Tiffany's".
To read more about this prostitute role & other Oscar-winning actresses playing a hooker, please continue perusing
If you know of this actress playing more than one prostitute role, please tweet to me and let me know! I'll gladly add it to the page here. My Twitter handle is at the top of this page.