Helen Mirren as Queen Elizabeth II in The Queen
Best Performance by an Actress in a Leading Role 2007

Helen Mirren The Queen 2007
SEX WORKER ROLE
Beaty Simons in Hussy 1980
Grace Bontempo in Love Ranch 2010
Both Characters Are Prostitutes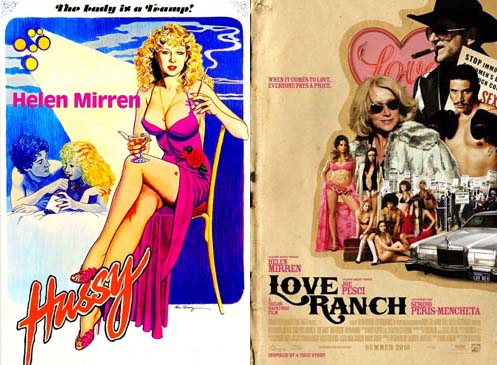 Helen Mirren in Hussy 1980 and Love Ranch 2010
Helen pulls a double threat playing both a prostitute and madam in two different films. In "Hussy," she plays Beaty, a hooker who begins a relationship with a working-class guy. Roadblocks in their lives prevent them from living happily ever after.

Watch clip of the film "Hussy"
Thirty years later, her husband, Taylor Hackford, would direct her in the film "Love Ranch." In this movie, Helen Mirren plays the real-life Grace Bontempo, who opened up the first legal brothel in Nevada.
Watch trailer of the film "Love Ranch"
To read more about this prostitute role & other Oscar actresses playing a hooker pick up
If you know of this actress playing more than one prostitute role, please comment below and let me know! I'll gladly add it to the page here. If the video gets removed, please leave a comment below to let me know.