Joanne Woodward as Eve White, Eve Black and Jane in The Three Faces of Eve
Best Performance by an Actress in a Leading Role 1958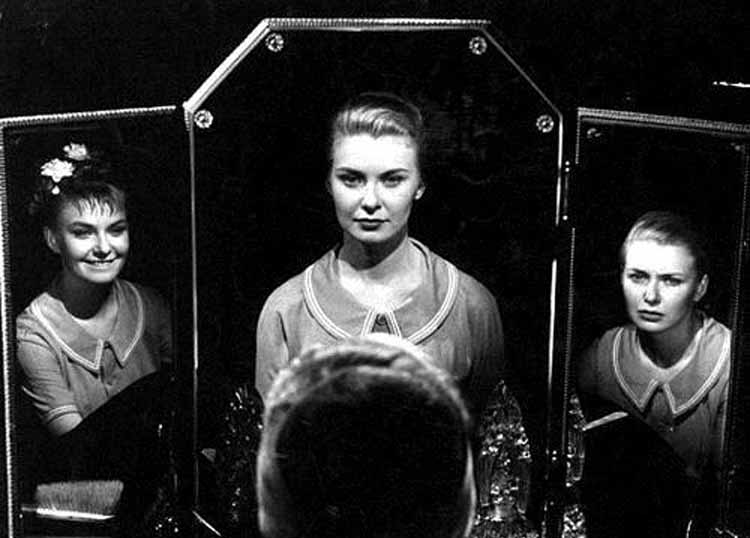 Joanne Woodward The Three Faces of Eve 1958
Plays Two Characters That Are Related To The Sex Trade Industry
Lila Green in The Stripper 1963
Geraldine Crosby in WUSA 1970
First Character Is A Stripper. Second Character Is A Prostitute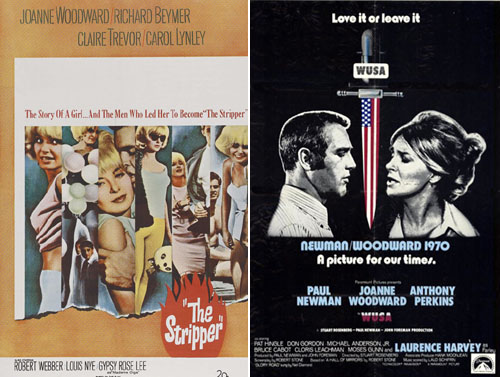 Joanne Woodward in The Stripper 1963 and WUSA 1970
The movie The Stripper was based on the play A Loss of Roses by William Inge. Joanne Woodward plays Lila Green, the Stripper in question. She is a down on her luck actress who must turn to stripping to make ends meet. Real-life stripper Gypsy Rose Lee also appears in the film as Madame Olga.

Watch clip of the film "The Stripper"
Starring opposite her husband Paul Newman, this film was based on the book A Hall of Mirrors by Robert Stone. The plot involves a right-wing radio station and the propaganda it perpetuates. Set in New Orleans, there is an abundance of rich characters. Joanne's character, Geraldine Crosby a hooker, describes herself as "too dumb for the phone company and too old for the five and dime". She doesn't have much to do, except support Paul's character. The film was released during the Nixon presidency. The film bombed at the box-office. Maybe the American public was apathetic about politics in 1970. But perhaps this movie was just ahead of its time.
Watch clip of the film "WUSA"
To read more about this prostitute role & other Oscar actresses playing a hooker pick up
If you know of this actress playing more than one prostitute role please comment below and let me know! I'll gladly add it to the page here. If the video has been removed please leave a comment below to let me know.