Sophia Loren as Cesira in Two Women
Best Performance by an Actress in a Leading Role 1962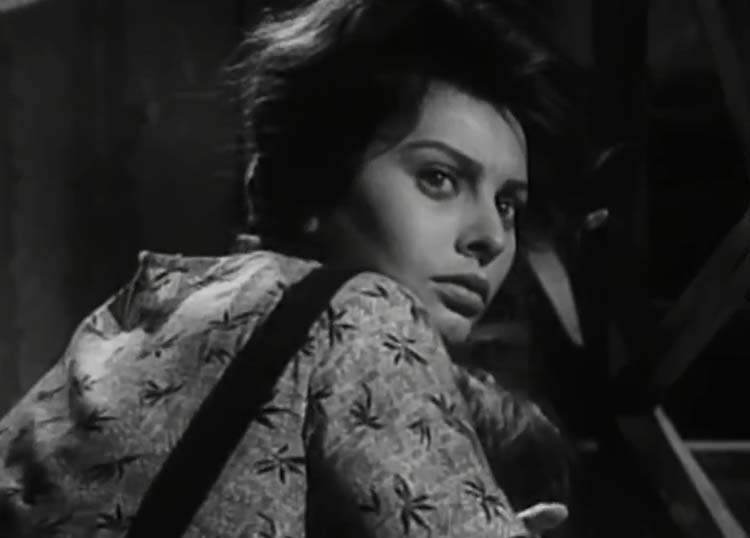 Sophia Loren Two Women 1962
Played Six Characters That Are Related To The Sex Trade Industry
Dita in Legend of the Lost 1957
Mara in Yesterday, Today and Tomorrow 1963
Filumena Marturano in Marriage Italian Style 1964
Oscar Nominated For Playing A Prostitute
Dulcinea del Toboso and Aldonza Lorenzo in Man of La Mancha 1972
Pupa in La pupa del gangster 1975
Angela in Angela 1978
All Six Characters Are Prostitutes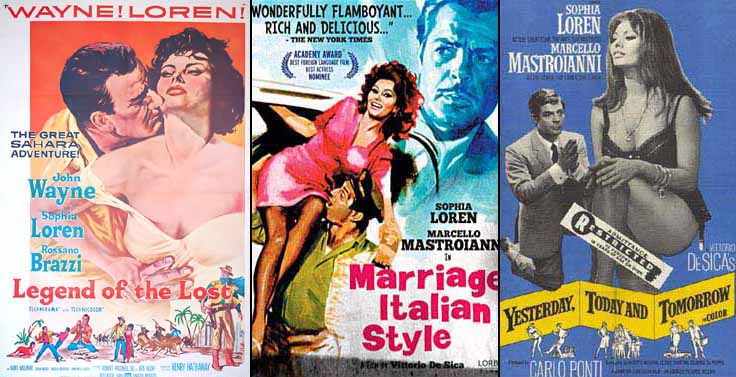 Sophia Loren in Legend of the Lost 1957, Marriage Italian Style 1964
and Man of La Mancha 1972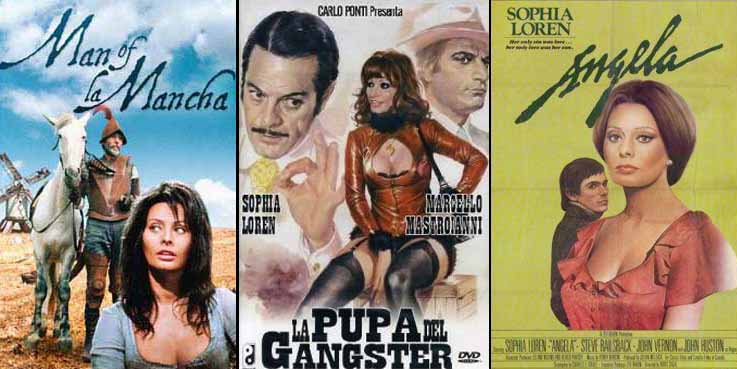 Sophia Loren in Man of La Mancha 1972, La pupa del gangster 1975 and Angela 1978
After her Oscar win for Two Women, it seemed that the only roles Sophia Loren was offered were that of a hooker. From 1957 to 1979 she played a prostitute on average once every three years. She is currently tied with Simone Signoret as the Oscar winner for playing the most hooker roles. Six of them. She just needs to play a hooker one more time to be the all time champ.
Legend of the Lost features Sophia as Dita. She is a pick pocketing prostitute who wants to get out of the dreary existence she has found herself in. She hitches a ride with an archaeologist and his tour guide who are in search of a lost city.

Watch clip of the film "Legend of the Lost"
Yesterday, Today and Tomorrow featured Sophia and Marcello Mastroianni in three separate stories, playing three different characters. In the third story Sophia plays Mara, a hooker who works out of her apartment. This is the film where Sophia performs her famous strip tease scene.

Watch clip of the film "Yesterday, Today and Tomorrow"
Marcello Mastroianni and Sophia teamed up yet again for Marriage, Italian Style. Sophia's character starts off as a poor waif, turning tricks in a brothel. She meets a rich powerful man during one of those dates. She goes from working in that brothel, to being the man's mistress.

Watch clip of the film "Marriage, Italian Style"
La pupa del gangster (aka Gun Moll) is an Italian screwball comedy. Sophia plays a hooker without a care in the world. That is until she gets mixed up with the Mafia, then the hilarity begins.

Watch clip of the film "La pupa del gangster"
Man of La Mancha was based on the Broadway musical of the same name. Which in turn was based on the story Don Quixote. Sophia plays Dulcinea del Toboso, who is a figment of Don Quixote imagination. He sees her as a goddess, who exudes purity and beauty. But in reality Dulcinea is a barmaid and hooker named Aldonza Lorenzo.

Watch clip of the film "Man of La Mancha"
Angela features Sophia as the title character. She is a former high class call girl who is shocked to discover the man she has fallen in love with is her son!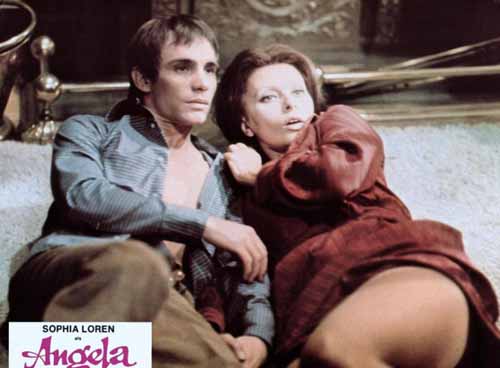 Sophia Loren in Angela 1978
This Movie Is NOT Commercially Available On DVD.
To read more about this prostitute role & other Oscar actresses playing a hooker pick up
If you know of this actress playing more than one prostitute role please comment below and let me know! I'll gladly add it to the page here. If the video has been removed please leave a comment below to let me know.